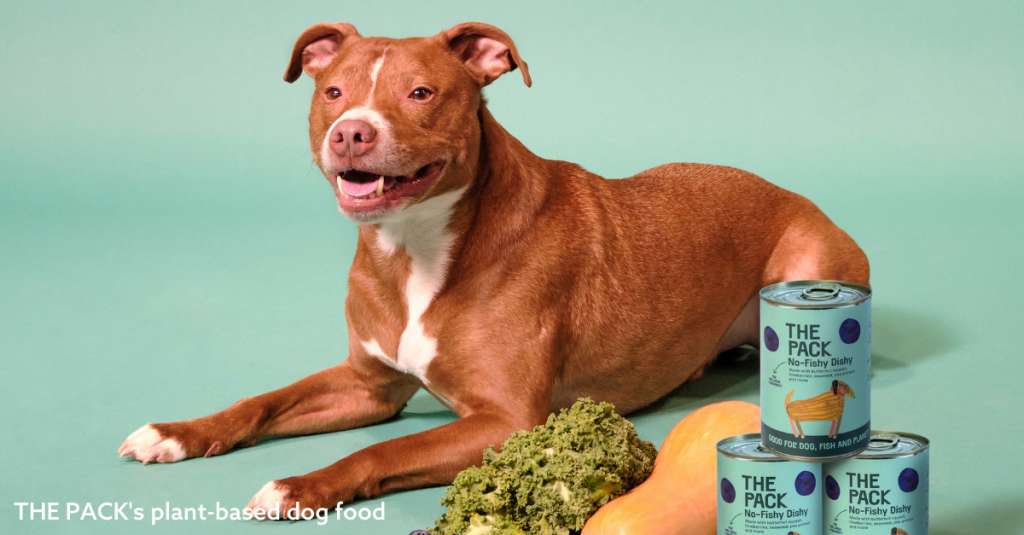 8 Vegan Dog Food Companies to Lower Your Carbon Pawprint
Erin Baright ・ 22 April 2022
It's Earth Day! A day where we can celebrate Mother Earth and bring awareness to the growing climate crisis, including steps we can take to make the world a better place. If you're a true climate enthusiast, then every day is Earth Day. Positive actions must be taken every single day, no matter how big or small, to mitigate the worst impacts of climate change. A lot of individual changes can make a huge impact if we all work together.
As the climate crisis looms over our heads, many people are taking significant measures to reduce their carbon footprints, particularly by altering their diets. What we eat has come into the spotlight in recent years in terms of the long-term impact on our planet. Our modern food system is flawed due to the vast majority of the world's population relying on animal products, causing unnecessary harm to Mother Earth. According to a major study published in the Proceedings of the National Academy of Sciences, a global reduction in meat consumption by 2050 could save up to eight million lives per year and $31 trillion in reduced costs from health care and climate change.
Many eat a plant based diet to reduce their carbon footprint and improve overall health. According to the Hartman Group and Datassential, 48% of Americans looked for products labeled "plant based" and 71% of U.S. adults reported trying at least one plant based product in 2021.
However, if you mention the term "plant based dog food," then you might leave some people scratching their heads.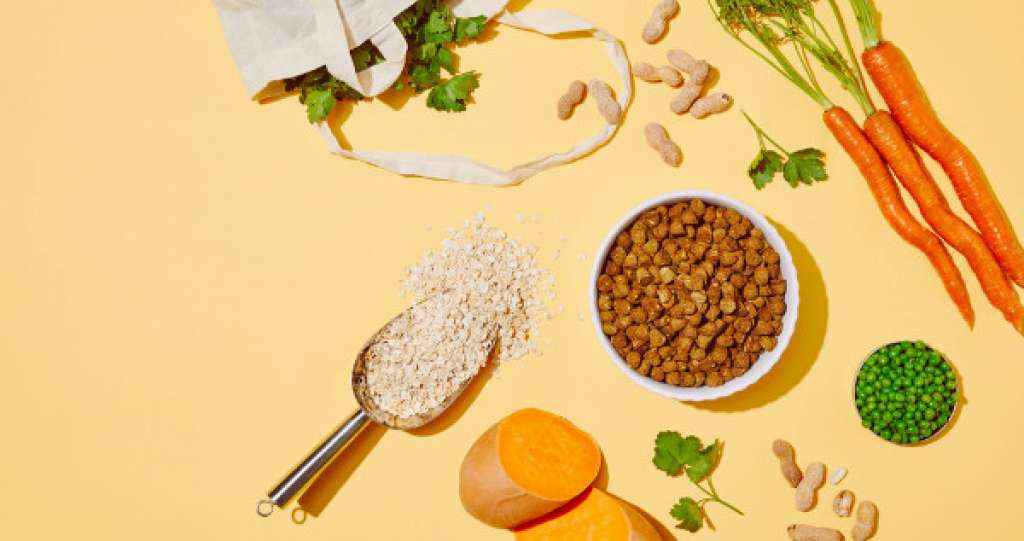 Credit: Petaluma
What is Plant Based Dog Food?
Plant based dog food is derived from plants instead of animal products. Dogs are omnivores, which means they can thrive on plant based foods, not just animal products. Most conventional dog foods generally consist of meat, meat byproducts, cereals, grain, vitamins, and minerals, plus pesticides, antibiotics, growth hormones, and other harmful contaminants. Animals used in rendering are livestock, horses, and companion animals which have been put to sleep. Cue the plant based dog food options!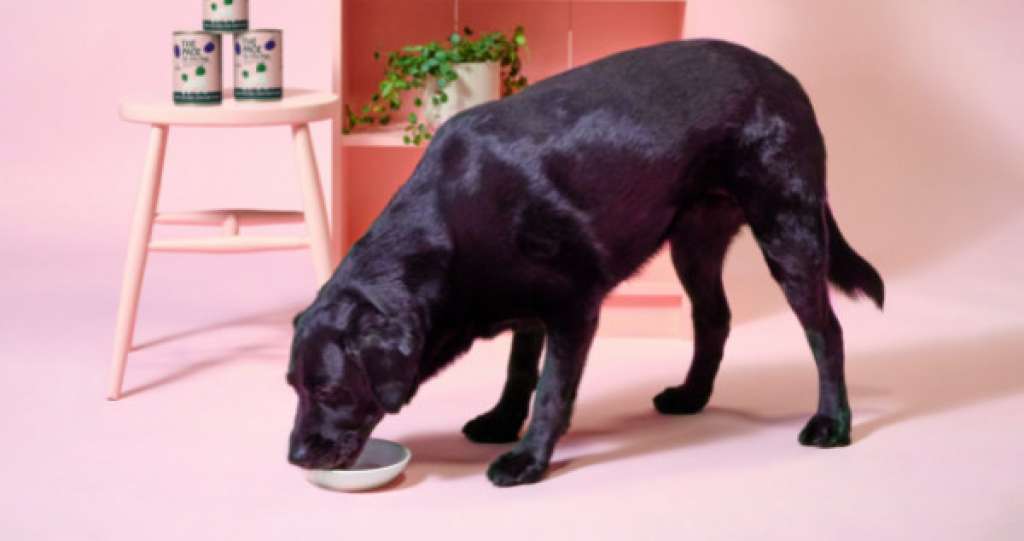 Credit: THE PACK
Why Plant Based Dog Food?
Just like the animal-based food eaten by many humans, pet food is horrible for the environment because it uses enormous amounts of natural resources. "Sustainability in pet food matters because our choices about what to feed our pets can shape how a giant portion of our land and resources are used," Caroline Buck, Co-founder of Petaluma, tells us.


Here are some fast facts:
"In the U.S. alone, there are more pet dogs and cats than kids. And we're feeding our pets an animal-heavy diet," says Amanda Rolat, Founder & CEO of Bramble. "For the most part, it's a highly processed dry food diet that depletes that animal protein of any nutritional significance. So there is relatively no upside for our pets, and it's contributing to the urgent climate crisis."
"If all 80 million American dogs switched to plant based food, it would make a huge impact in terms of environmental sustainability," Caroline Buck emphasizes. "The numbers are staggering—we'd save 2 trillion gallons of annual freshwater (roughly the same amount of water that flows over Niagara Falls in one month), reduce as much greenhouse gas emissions as much as taking 16 million cars off the road (equivalent to all of the cars and trucks in Florida), and reduce 170,000 square miles of land use impact currently functioning as pasture and cropland (an area roughly the size of California)."
Additionally, conventional pet food relies on factory farming billions of animals to feed house pets. Torturing some animals to feed others just doesn't sit well with many people.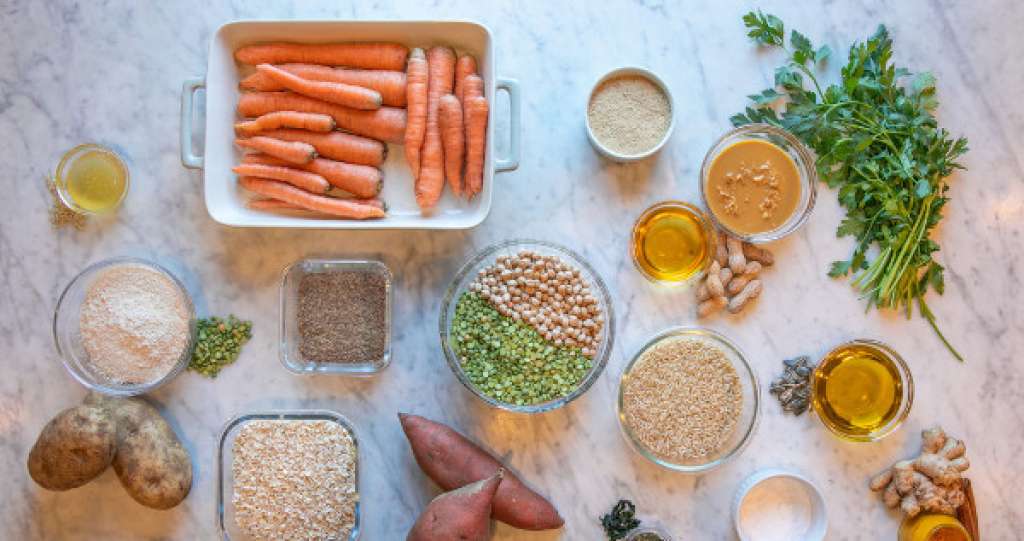 Credit: Petaluma
New Research Reveals Plant Based Dog Food is Healthier
Recently, new research revealed that the healthiest and least hazardous dietary choices for dogs are nutritionally sound vegan diets. The study was led by Professor Andrew Knight of University of Winchester and studied over 2,500 dogs. Dogs fed conventional diets appeared to fare worse than those fed nutritionally sound vegan and raw meat diets. Significant evidence indicates that raw meat diets are often associated with dietary hazards, including nutritional deficiencies and imbalances, and pathogens.
"We're living in the midst of a health crisis for dogs with cancer rates and obesity levels on the rise,'' says Judy Nadel, Co-founder of THE PACK, a UK-based dog food startup. "The current food system for dogs is broken, at THE PACK we feel dogs deserve better and we want to create food that enables us pet parents to create more happy memories with our dogs. Feeding plant based dog food is a great way to give your pup healthier food and a diet that doesn't give the planet indigestion."
"It is so much healthier for our pets — and better for the planet and other animals — to at least reduce the amount of animals we feed to them, replacing those ingredients with clean, reliable, more digestible plant based ingredients," says Amanda Rolat.
The Demand Is Growing
The demand for plant based pet food is growing, mainly influenced by humans making changes to their own lifestyles for personal health, sustainability, and animal welfare. Sales for plant based dog food companies have soared in recent months; OMNI, a UK startup, saw its sales increase by 600% in six months. Whilst THE PACK saw a 66% increase in sales in March 2022.
According to Insight Partners, the vegan pet food market is expected to reach over $15 million by 2028, growing at a CAGR of 7.7% from 2021–2028. Asia Pacific is expected to capture the fastest CAGR in the market during the forecast period due to increasing pet population and growing popularity of vegan diets.
A 2022 report by Vegan Society revealed: 25% of people studied had been influenced to buy vegan dog food from a professional, and 21.7% buy it because of personal ethical beliefs. Another 21.7% buy plant based dog food because of environmental reasons.
Plant based dog food even has the approval of the puppers themselves: In 2021, a large study published reported that dogs enjoyed vegan food at least as much as meat-based food. No need to worry about food waste!
This Earth Month (and every month!), you can lower your dog's carbon pawprint with plant based dog food. We need more sustainable puptivists in the world! And that change starts with you.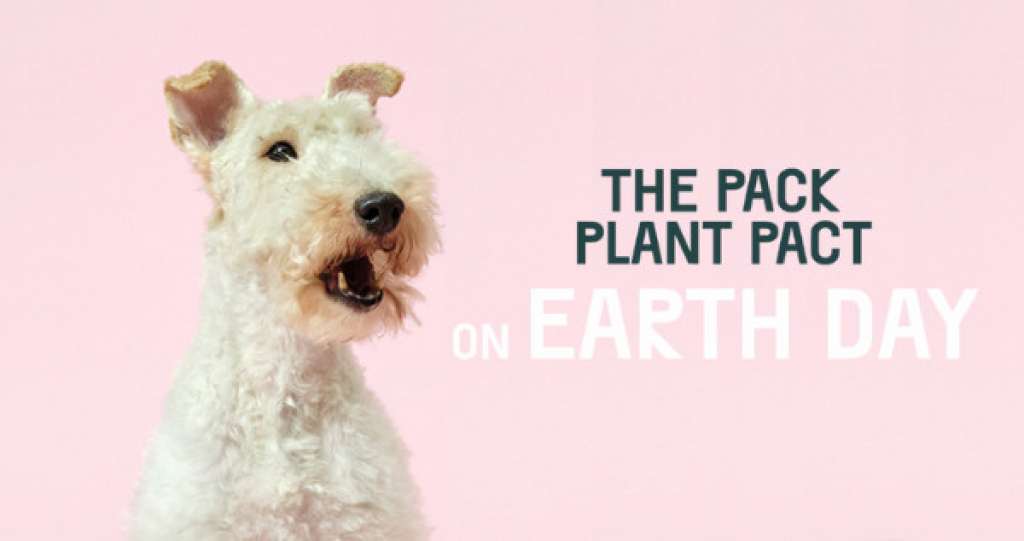 Credit: THE PACK
8 Plant Based Dog Food Startups For A Sustainable Planet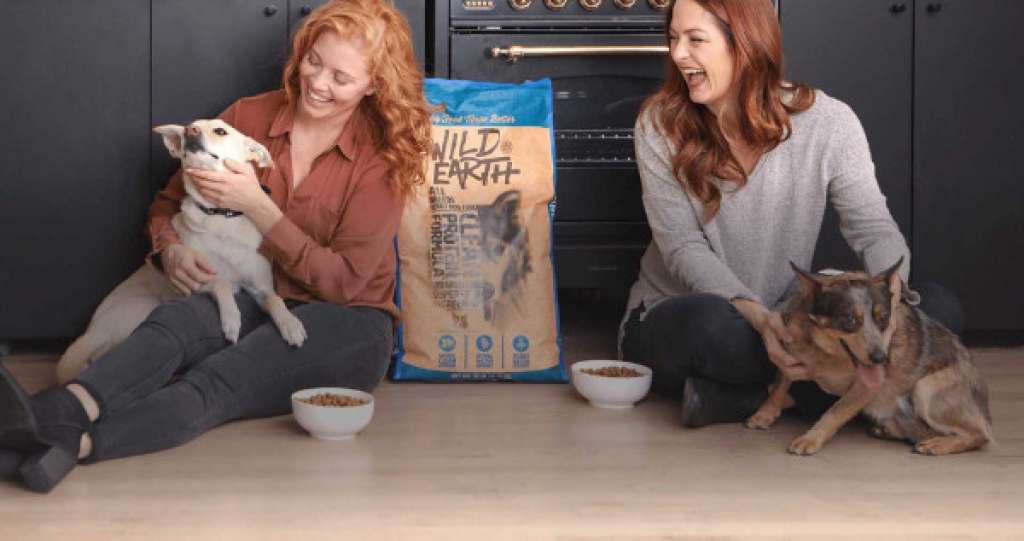 Credit: Wild Earth
Wild Earth is a plant based pet food company focused on giving pets the highest quality complete protein they deserve, with zero compromises. Its Complete Protein Dog Food contains rich superfood ingredients, including chickpeas, sweet potato, spinach, pumpkin and oats and more. Wild Earth kibble requires 95% less water and emits 96% less CO2 than meat-based kibble. Now that's something to celebrate!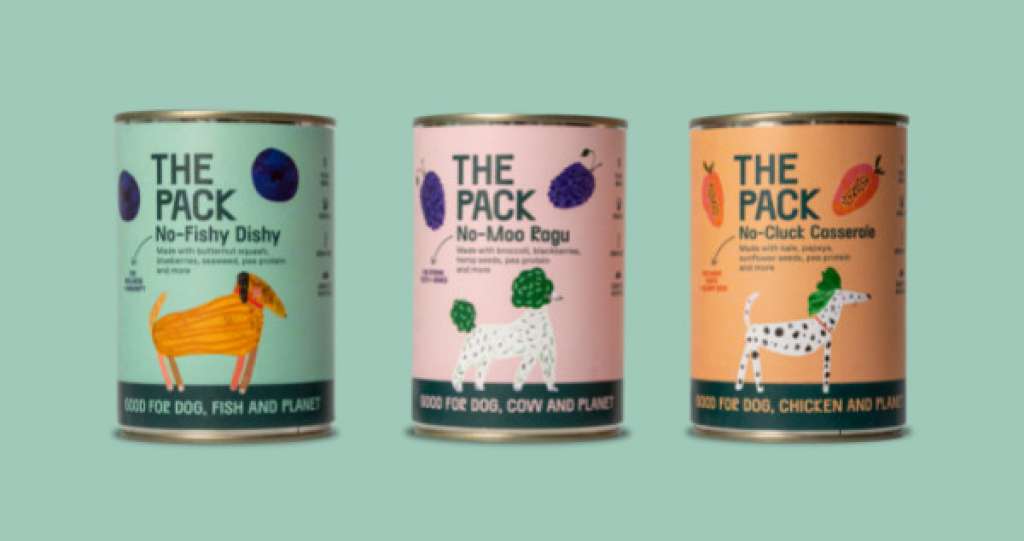 Credit: THE PACK
THE PACK (United Kingdom)
THE PACK has attracted widespread media attention with the launch of the world's first plant based meat wet foods for dogs since launching in September 2021. It is the first European alt-protein pet food startup to graduate from the Mars pet-care accelerator Leap Venture. THE PACK recently became a pending B Corp and is due to launch new highly innovative products into the European market throughout 2022.
"We're delighted to be giving dog parents options to reduce their pups' environmental pawprint this world Earth Day,'' Judy Nadel, Co-founder & CEO of THE PACK, tells us. "The day marks a perfect opportunity to start exploring plant based food for dogs. If every dog became a flexi-dogian we can take a big bite out of the climate crisis."
Do you want to be part of THE PACK's pact? This Earth Day, it's asking dogs around the world to add more plants into their bowl. Sign the pact today!
And guess what? THE PACK was created by Vevolution Founders Damien and Judy! To celebrate Earth Day (every day), you can get 20% off your first order. Use the code PACK20 at checkout.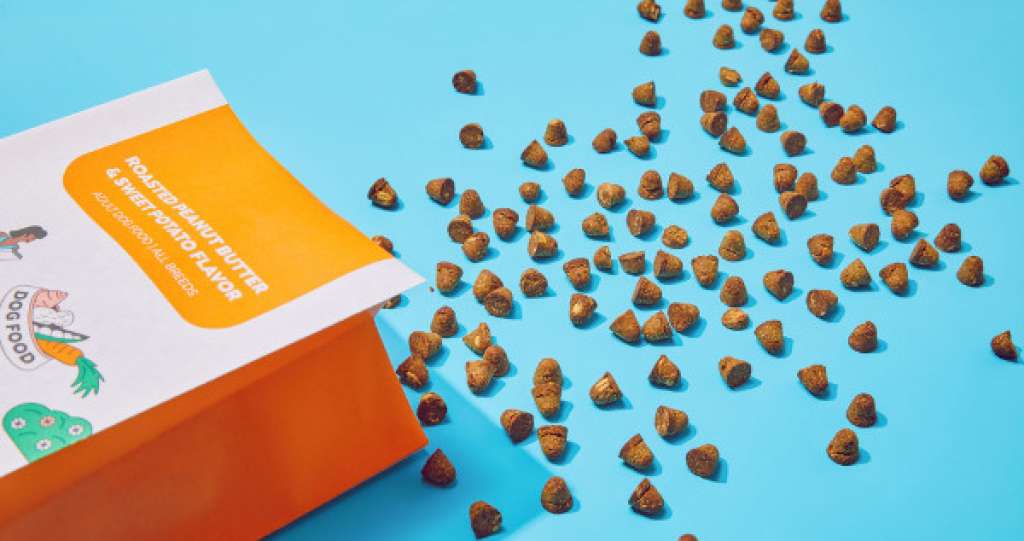 Credit: Petaluma
Petaluma is a pet nutrition company focused on environmental sustainability. The company is a public benefit corporation, Certified B Corporation, and a member organization of 1% for the Planet and Climate Neutral. Petaluma is on a mission to build the future of pet care that's better for pets, the planet, farmworkers, and agricultural animals.
The company was founded in 2019 and is available exclusively online.
HOWND (United Kingdom)
HOWND is a multi award-winning ethical lifestyle brand for dogs of all breeds and ages, offering plant based health and wellness products under one roof. Its dry plant powered superfood is made with sweet potato, squash, green beans, culinary herbs, fruit extracts, hemp protein, and moringa. Also offered are wet foods with three flavors: hearty quinoa and pumpkin casserole, fresh blueberry and coconut porridge, and fragrant papaya and lentil dahl.
In addition to dog food, the startup creates the UK's most ethically awarded and accredited plant powered pet care for professional groomers.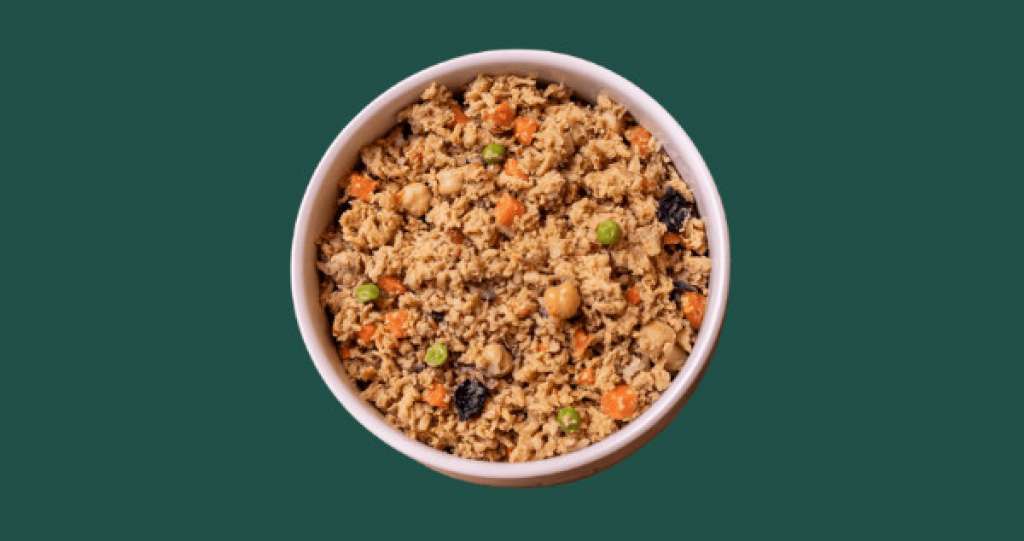 Credit: Bramble
Bramble (United States)
Bramble is the first company to offer a 100% plant based fresh pet food that looks, feels and tastes like the meaty food pets crave. Its health-first approach to feeding dogs more plant based protein is backed by science. Formulated by veterinary nutritionists, it's made from whole-foods and human-grade ingredients carefully sourced in the USA, no preservatives, and gently cooked in small batches for optimal nutrition. Bramble dog food is available online.
Freshwoof is Asia's first 100% plant based wet dog food that is healthier for dogs and better for the planet. Its wet food is available for all dog breeds and comes in three flavors: brown rice and beans, tofu and quinoa, and oats and chickpeas. Its recipes are vet approved, preservative free, and made with human-grade ingredients and whole foods, including superfoods and Ayurvedic goodness.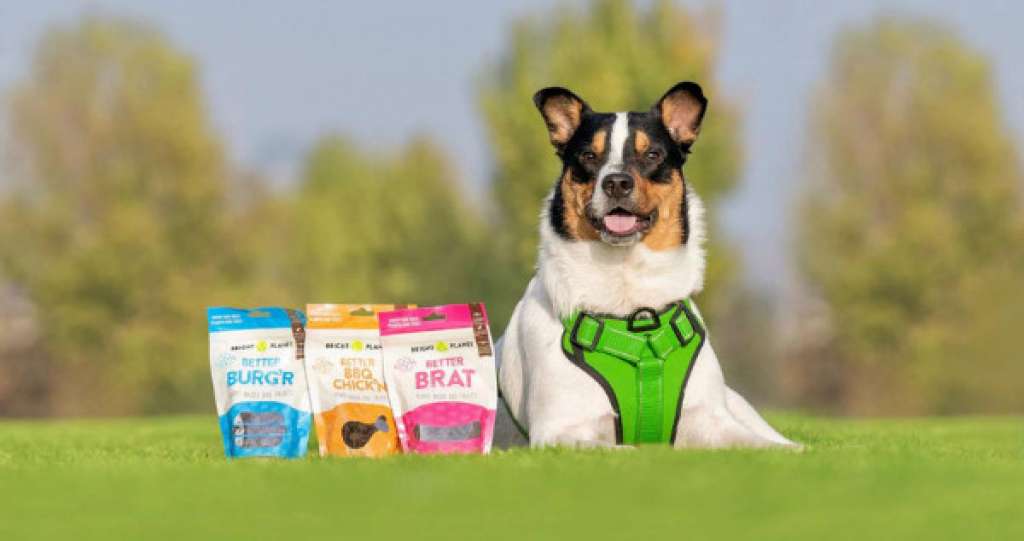 Credit: Bright Planet Pet


Bright Planet Pet makes plant based treats for dogs that taste and smell like real meat. The US-based startup was founded on the principle that dogs and their humans deserve truly sustainable dog treats that are unbelievably delicious while being 100% plant based. Its three treat flavors include: burger, brat, and BBQ chicken. Bright Planet Pet helps pet parents reduce their dog's carbon pawprint and enhance the special human-animal bond through plant based treating.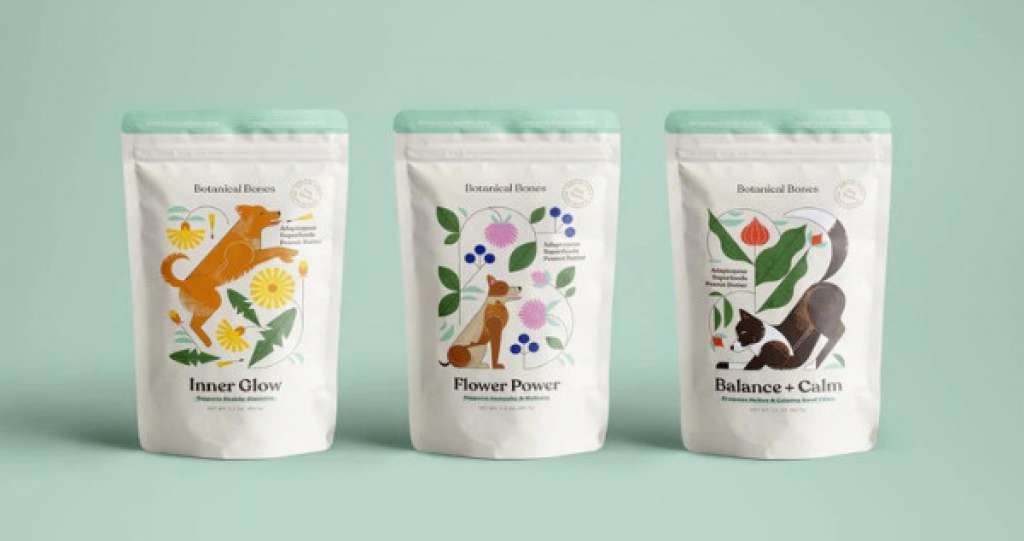 Credit: Botanical Bones
Botanical Bones' plant based dog treats are made with chickpea flour, superfoods, adaptogens, and peanut butter. Its dog treats are made in small batches with nutrient-dense clean ingredients that dogs love, plus the superfoods and adaptogens promote wellness. There are three sniff-worthy and dog-approved treat recipes to choose from: Balance + Calm for good vibes, Inner Glow for digestive health, and Immunity + Wellness for longevity.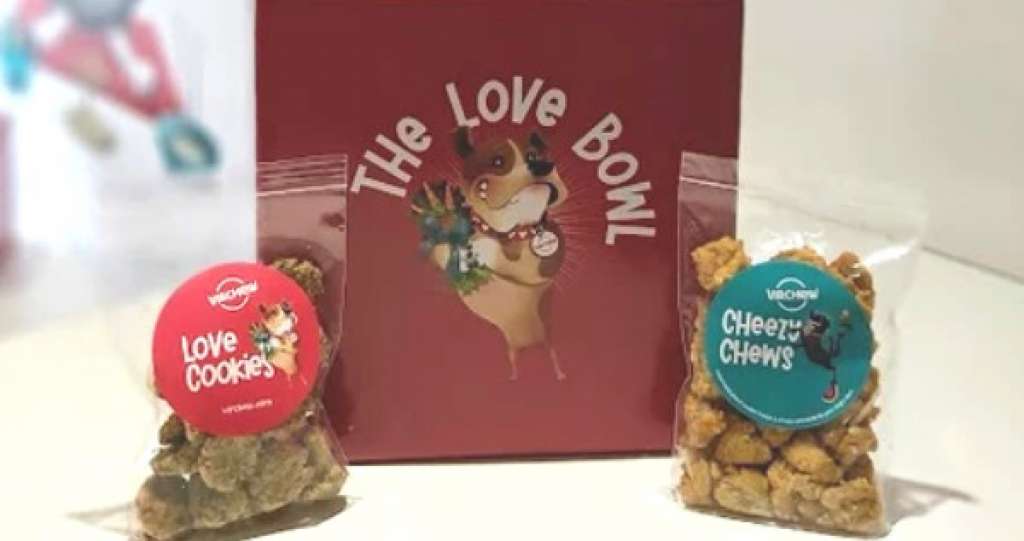 Virchew (Canada)
Based in Vancouver, Virchew is transforming the dog food industry by serving up the first plant based meals and treats for dogs powered by trail-blazing veterinary nutrition programs - with a dogged focus on skin, digestive, and preventative solutions. Its products include bowls, cookies, and chews delivered to your door.
Discover More Vegan Startups on Vevolution
You can use Vevolution's directory to find hundreds of plant-based startups in your home country. We are the leading global network and investment marketplace for plant-based innovators building a kinder world. We invite you to join us!
Vevolution is the leading global plant based & cellular agriculture investment marketplace for startups, investors, and consumers. Our mission at Vevolution is to accelerate the growth of the plant based and cell based economy by providing fin-tech solutions that enable opportunities for investors and startups.
If you are an accredited investor and want to see which vegan pet food startups are raising on Vevolution, sign up for our Vevolution Investor Membership today! Access our marketplace, round data, pitch decks, industry analysis, instant chat, and more.
Contact Us
For more details or to be featured on Vevolution News, please contact us at hello@vevolution.com.