Invest in plant-based and cell-based startups
Get access to hundreds of plant-based and cell-based deals every year with our unique deal flow tool.
Create your free account and instantly access our live deal flow preview to test our technology.
It's widely reported that Alt-protein has seen a record $3.1 billion investment in 2020. Cell-tech saw six times the amount of capital raise than in 2019. The time is now to invest in plant-based or cell-based startups. We have the fintech and software to support investors in finding and managing deals!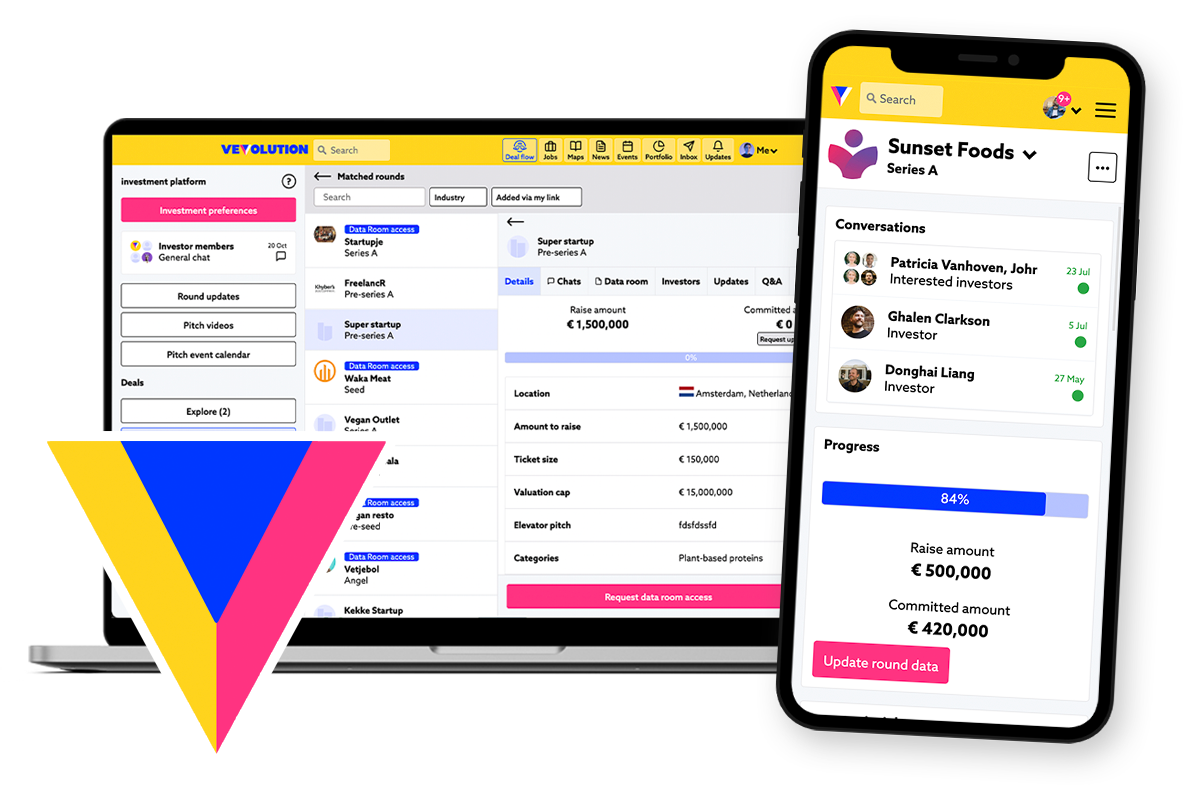 Our unique deal flow tool
Are you tired of the laborious work needed to find the newest plant-based and cell-tech investment opportunities? Our deal flow tool is continuously improving technology that allows you to access hundreds of new deals every year, co-invest alongside leading funds from across the world, instantly chat with startup founders, and so much more!
Try out our deal flow tool for free and access our live deal flow preview by creating an account.
Investor member testimonials
Vevolution has quickly become the go-to destination of the plant-based investment scene. There are many like minded investors with whom we can team up when looking at investment opportunities.
Read more
Silla Scheepens of S2 Capital
Vevolution has quickly become a leading platform for mission-driven investors to connect with founders and innovative companies in the plant-based space. The quality of startups and investment opportunities on the platform is very impressive. Vevolution has exceeded my expectations in every way.
Tadd Hatcher, Angel Investor
We love the transparency of the platform and the availability for startups of all sizes and from all parts of the world. Even if we end up not investing, they might find capital from the others, or learn a lot in the process.
Read more
Måns Ullerstam of Kale United
I love that there is a place where like minded purpose-driven investors and founders can connect. I'm impressed with the quality of startups applying and the acceleration Vevolution brings to our space.
Read more
Willem Blom of Plantbase
Sign up now
Fundraising success stories
Here are a few of the many successful fundraising stories from the Vevolution platform.
Sign up now
Our investor members
The Vevolution investor members come from varying professions, backgrounds, and geographical locations. Our investors are some of the leading VC funds from across the world, and are also up-and-coming angel investors who are looking for the next Beyond Meat.
Get started in 3 easy steps
2. Preview
Try out our deal flow tool and see live deal flow preview.
3. Become a member
Get full access to the deal flow and our entire fundraising ecosystem.