Invest in the post-animal economy
Unlock hundreds of plant-based and cellular agriculture deals every year with the Vevolution investment platform. Set your investment preferences, access hundreds of rounds, and unlock curated deals sent directly to your inbox. Trusted listings. Fintech with heart.
The only marketplace you need to invest in plant-based, fermentation, cellular agriculture, next-gen materials and everything creating a kinder future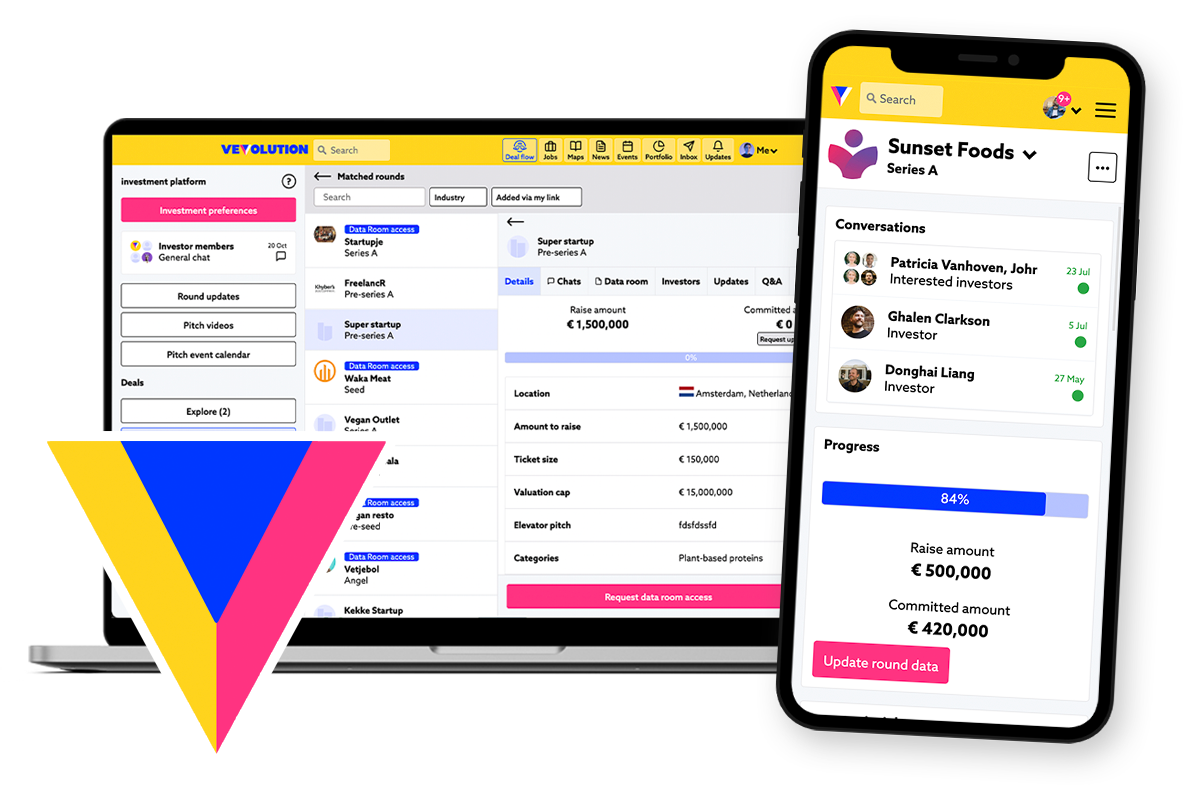 Filter, Chat, & Match
Filter companies fundraising by category, revenue, amount to raise, region, and more to find a curated match. Reach out to founders directly to source more info, start your due diligence process, or request data room access.
Vevolution will do the leg work. Set your investment preferences and get curated deals sent directly to your desk.
Features & Pricing
Simple pricing. Choose the Vevolution membership that is best for you.
What our investor members say
Vevolution has quickly become the go-to destination of the plant-based investment scene. There are many like minded investors with whom we can team up when looking at investment opportunities. Silla Scheepens of S2 Capital
We are excited to continue to build up the future of food working together with Vevolution. The Vevolution platform will help support our operations and allow us to more easily scale innovative cell-based companies from around the world. Lejjy Gafour of CULT Food Science
We love the transparency of the platform and the availability for startups of all sizes and from all parts of the world. Even if we end up not investing, they might find capital from the others, or learn a lot in the process. Måns Ullerstam of Kale United
Just like Vevolution, we're dedicated to a better plant-based future. Together, we are focused on accelerating that joint mission and by expanding the plant-based ecosystem, we are creating even more opportunities for plant-based start-ups to thrive. Caroline Cormier of Upfield
Join as an investor
Vevolution Collective: Funded Startup Success Stories
The Vevolution investment platform has fueled funding into game-changing startups from around the world. Plant-based, precision fermentation, cellular agriculture, and next-gen materials companies have received investment from our marketplace to continue building a better future.
Our investor members
The Vevolution investor members come from varying professions, backgrounds, and geographical locations. Our investors are some of the leading VC funds, family offices, and angel investors who are looking for animal-free innovations.
Get started in 3 easy steps
2. Start Your Subscription
Set your investment preferences and get curated deals sent directly to your desk
3. Unlock Full Access
Access hundreds of rounds, decks, data rooms, and only marketplace you need