Fundraising
Are you raising as a plant-based or cellular agriculture startup? Add your investment round to Vevolution in only 10 minutes, and our investors will have instant access to your round.
And did we already mention it's free?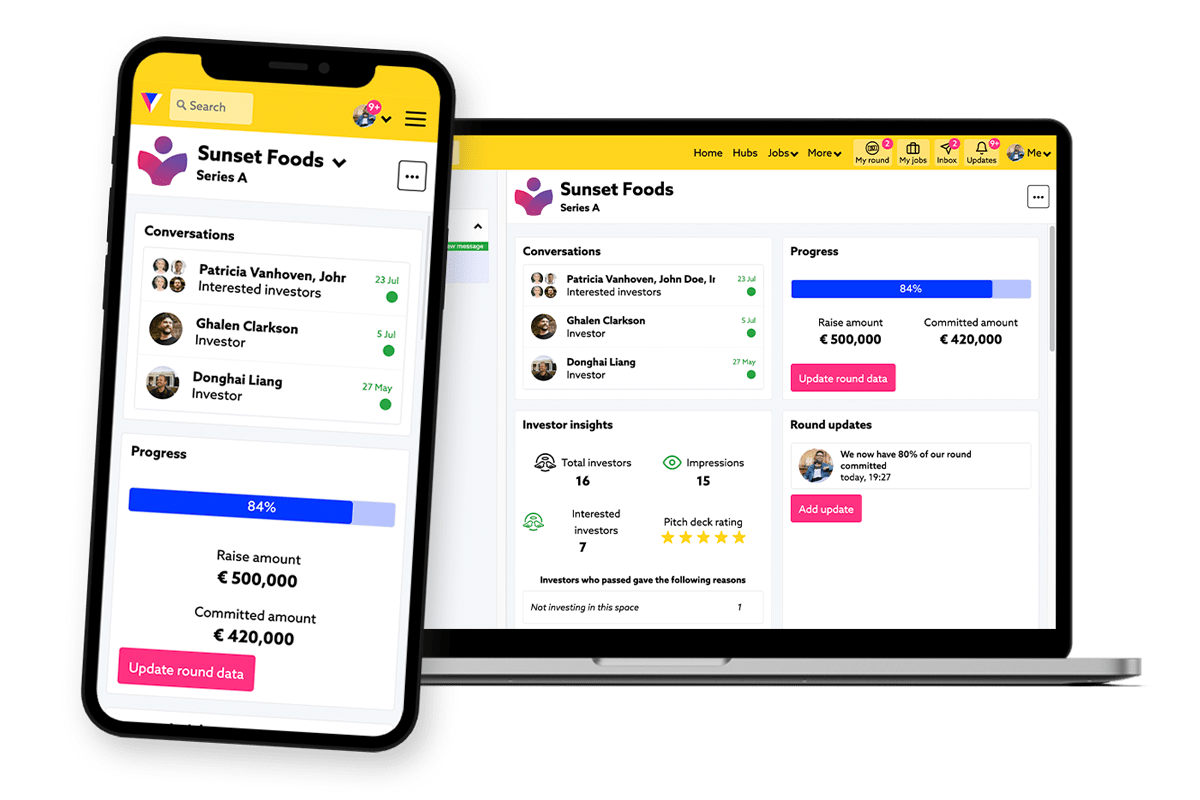 Apply for funding (it's free!)
Never before has there been a community of investors in one place, using technology to easily invest in plant-based and cellular agriculture startups from all over the world. If you are fundraising you only need 10 minutes to upload your open investment round information to Vevolution, and our investors will then have instant access to your round:
Create your free account
Add your startup profile
Add your round
Meet The Investors
The Vevolution investor members come from varying professions, backgrounds, and geographical locations. Our investors are some of the leading VC funds from across the world, and are also up-and-coming angel investors who are looking for the next Beyond Meat.
So why raise with Vevolution?
You can add your investment round to the Vevolution platform, which will be seen by all of our investor members.
You can connect directly with our amazing investors.
Our fundraising management tool allows you to:

Chat with interested investors.
Share your pitch deck, investment round details, and other related documents with investors.
Investment round information is private only for investors to view.
Other startups will not see your investment round information.
Manage all this in one place, which is easy-to-use.

Vevolution does not take a percentage or commission of any deals closed on our platform.
We do not hand-select deals to showcase to our investors. Our platform is a democratic, equitable, and autonomous process that gives all startups an equal chance to stand out to our investor members.
Fundraise year-round. We bring the investors to you, not vice-versa.
Adding your investment round is free for all plant-based and cellular agriculture startups
Join these startups which already found funding through Vevolution.
Promote your crowdfunding round
You can promote the crowdfunding round of your plant-based or cellular agriculture startup for free on the Vevolution platform. If you are using crowdfunding websites like Seedrs, Republic, or Kickstarter you can simply add them to your Vevolution profile. Expose your campaign to over 2,000 other plant-based organisations, investors, entrepreneurs, and other Vevolution community members.
Adding your crowdfunding round is easy:
Create your free account
Add your startup profile
Add your crowdfunding round