Fundraising for a kinder future
Are you working to remove animals from the supply chain? For vegan, plant-based, and cellular agriculture startups, fundraising is now easier with Vevolution. Add your investment round in only 10 minutes, and start matching with mission-aligned angel investors and leading VC funds from around the globe.
Vevolution Collective: Fundraising success stories
The Vevolution investment marketplace has fueled funding into more than 30 game-changing startups from around the world. Companies in the plant-based, precision fermentation, cellular agriculture, and consumer packaged goods have received investment from our marketplace of investors to continue building a better future.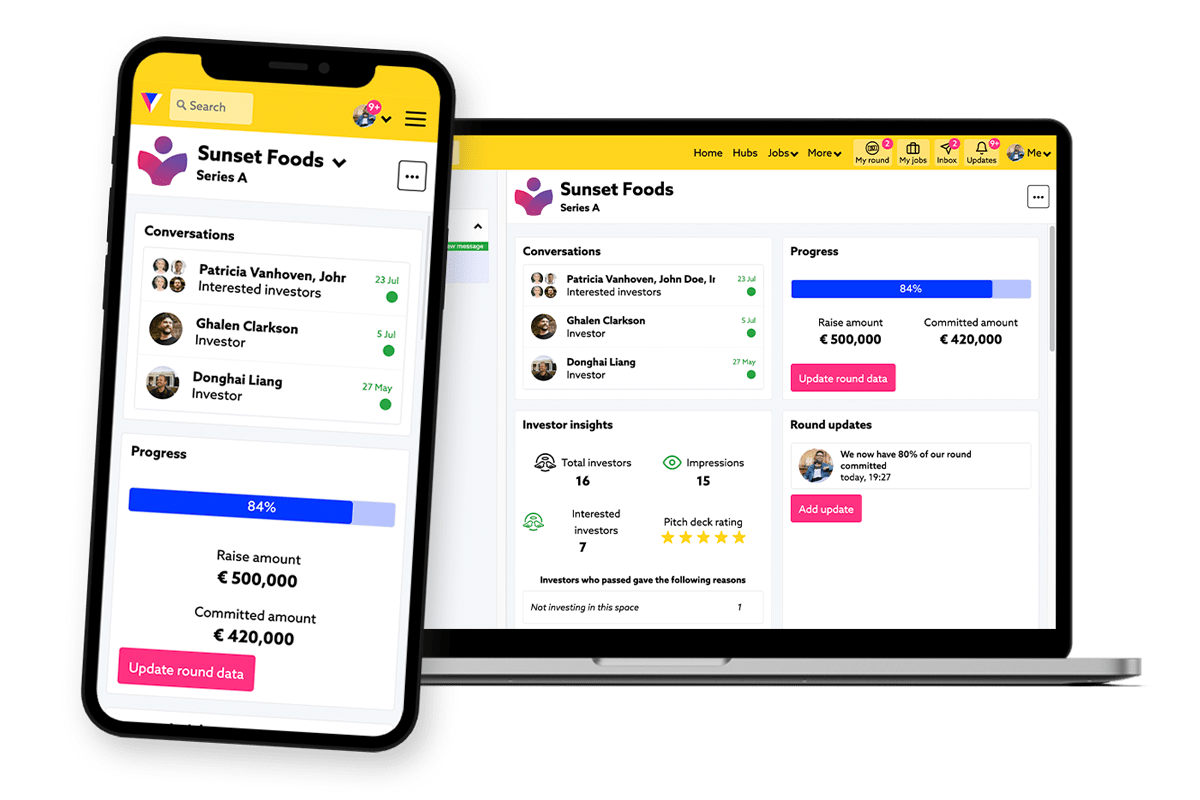 Apply for funding
Vevolution's community of investors and technology makes it easier than ever to invest in plant-based and cellular agriculture from around the world. If you are fundraising you only need 10 minutes to upload your open investment round information to Vevolution. Start matching today:
Create your free account
Add your startup profile
Add your round
Who can raise with Vevolution?
Any vegan or cellular agriculture startup can add their round to Vevolution. This includes the future of food, beverage, fashion, materials, and tech fueling the post-animal economy.
Why raise with Vevolution?
You can list your round for free on Vevolution. Paid options are available for more proactive matchmaking, but we're currently not taking a commission of any fundraising closed on our platform.
List your round, stand out, connect, and match with our mission-aligned investor members.
Our fundraising management tool allows you to share your pitch deck, investment round details, and other related documents privately with investors.
Manage everything you need in one easy to use round dashboard.
Our platform is a democratic, equitable, and autonomous process that gives all startups an equal chance to stand out to our investor members.
Fundraise whenever you need to, at every stage. We're on your timeline.
Join these startups which already found funding through Vevolution.
Promote your crowdfunding round
You can promote the crowdfunding round of your plant-based or cellular agriculture startup for free on the Vevolution platform. If you are using crowdfunding websites like Seedrs, Republic, or Kickstarter you can simply add them to your Vevolution profile. Expose your campaign to over 2,000 other plant-based organisations, investors, entrepreneurs, and other Vevolution community members.
Adding your crowdfunding round is easy:
Create your free account
Add your startup profile
Add your crowdfunding round