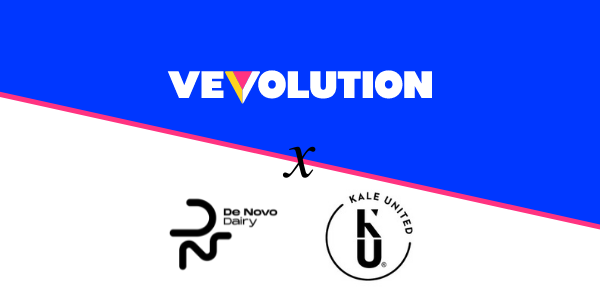 De Novo Dairy Secures Funding through Vevolution with Kale United
Erin Baright ・ 07 March 2022
If you've been buying plant-based milk products for a while, you've probably noticed that the dairy-free section at the grocery store has grown substantially over the past few years. It seems like every time you go to the grocery store, new dairy-free products are popping up onto the shelves—and they're flying off the shelves too.
The demand for plant-based dairy has grown exponentially in recent years, with flexitarians driving the market for dairy-free alternatives. According to "Plant-Based Dairy Market" (Fact.MR), global sales of plant-based dairy products are expected to grow 11% until 2031, to an estimated market value of $32 billion.
Surely you've put a nut-based milk carton into your grocery cart or asked a barista for non-dairy milk in your coffee. Now, what about real dairy without the cow? You heard that right: real dairy without the cow!
We sat down with Jean Louwrens, CEO and co-founder of De Novo Dairy, to learn more about the startup's fascinating mission and success using Vevolution.
A New Kind of Dairy
De Novo Dairy, based out of Cape Town, South Africa, is on a mission to create dairy products that customers know and love without the cow. De Novo Dairy secured funding with Kale United on the Vevolution investment marketplace for its pre-seed round in 2021. De Novo Dairy is one of more than twenty startups that secured funding with the Vevolution platform last year.

The startup produces nature-identical, animal-free proteins using precision fermentation with a mission of reducing animal farming and optimizing human nutrition. Precision fermentation means genetically modifying any kind of biological host, like yeast, fungi, or algae, to express enzymes, proteins, or fats that you would find in an animal. The process results in protein just as functional and nutritious as you'd find from an animal—it just removes the animal from the supply chain. Pharmaceutical applications have been the primary use-case for precision fermentation in the past, and De Novo Dairy is the first food company based in Africa to utilize the technology.
The Quest for Optimal Nutrition
The quest for optimal nutrition spearheads De Novo Dairy's mission. The dairy proteins they express in the biological hosts are essential for infant development and overall human health. Scarce in nature and expensive to extract, these essential proteins are more accessible and cheaper to produce through precision fermentation. The proteins can be used in baby formulas to boost infants' immune systems and support babies who cannot breastfeed. Consuming suitable proteins at a young age is critical for immune development and overall health.

A report by Facts & Factors forecasted the global infant formula market to grow at a CAGR of 9.8% through 2026, reaching $110.26B. De Novo Dairy has a global plan to disrupt traditional dairy products in infant formula by utilizing premium proteins over the next few years, targeting Europe and Asia first. Jean Louwrens (CEO) told Vevolution about the advantages of headquartering a company in Africa: cheap R&D, great ports, and many individuals moving into the middle class. The benefits allow De Novo Dairy to spearhead its global mission. "The percentage growth of funding going into Africa in 2020 and 2021 has been amazing," he celebrated. To execute its fundraising, Louwrens turned to Vevolution for help. Not only was he looking for capital, but he was also seeking strategic mission-aligned advisors with a strong network.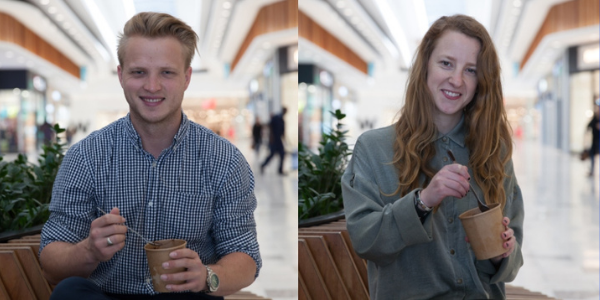 The Startup Dream Team
Critical for De Novo Dairy's development: a strong, well-rounded team. De Novo Dairy has four co-founders: Jean Louwrens (CEO) and Dr. Leah Bessa (CTO), who had known each other for about ten years prior to this venture; and Richard Grieves (COO) and Joni Symon (R&D scientist) who had also known each other for a long time. After a mutual friend introduced the four of them, they soon realized they were interested in solving the same nutrition problems and co-founded De Novo Dairy. Together, their expertise and skills range from supply chain management, engineering, molecular biology, to a Ph.D. in alternative proteins. Their shared vision bonds them and keeps the startup thriving.

Louwrens is the CEO at the helm of De Novo Dairy, but they all push forward together. The startup lifestyle is intense and rewarding—a journey that is not for everyone. In order to stay grounded, Louwrens exercises for one hour every day and finds that it helps him focus and accelerate the successful startup. His advice to other new startups using Vevolution to fundraise: be yourself. He revealed, "Investors want to work with people and know when a team is genuine."
"Vevolution was extremely easy to use, and we connected with Kale United quickly. We will definitely use Vevolution for our next round."

Jean Louwrens, CEO & Co-Founder of De Novo Dairy
Raising on Vevolution
Through Vevolution, De Novo Dairy connected with Kale United, an ethical holding company based in Stockholm. Louwrens told us that "Vevolution was extremely easy to use, and we connected with Kale United quickly. We will definitely use Vevolution for our next round." Since its pre-seed raise, De Novo Dairy was named part of the FoodTech 500 List by Forward Fooding and was accepted by Big Idea Ventures New York accelerator. Prithvi Ventures was one of the earliest investors in De Novo Dairy and helped the startup take flight. Its next round of fundraising will be an equity round. As any entrepreneur knows, fundraising can feel like a full-time job, and the team is gearing up for the growing future of the startup and the food industry. With a few new hires and great additions, De Novo Dairy is ready to conquer the rapidly changing alternative protein industry and change how humans consume dairy. "Just utilizing Vevolution to get more eyes on De Novo Dairy has been amazing and beneficial," Jean emphasized.
During our interview, Louwrens offered some insights for other startups aiming to secure a financial and strategic partner like Kale United. Telling a compelling story to investors is crucial: De Novo Dairy is creating a complex biotech product that requires a diverse team with unique skills, both hard and soft, in order to execute the company's mission. Problem-solving is critical, as well as asserting how the product fits into the market. Expertise is the undercurrent of success: that's why four co-founders with unique skills and backgrounds are an asset. Everyone plays a pivotal role in helping De Novo Dairy succeed.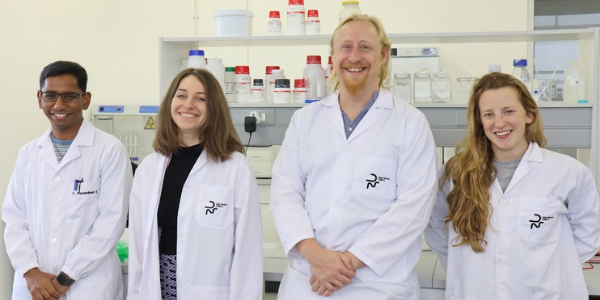 Looking Forward
Jean told us the startup has a few difficult scientific milestones to accomplish before it raises its next round in the summer of 2022. De Novo Dairy has continued to hire and grow its team of experts in order to reach its goals. Its future is bright, and surely De Novo Dairy will revolutionize dairy forever.
Kale United, the fund that connected with DND through Vevolution, has mission-aligned goals. Ziggy Fleckner, an analyst on Kale United's team, said "at Kale United, we are on a mission to bring down the number of animals used in the global food system. Therefore, we are excited to support De Novo Dairy through its journey of producing dairy proteins without the animal. At scale, we believe the production of animal-free dairy proteins has the potential to disrupt large parts of our current food system. For this reason, we were delighted when introduced to Jean and the rest of the team at De Novo Dairy through the Vevolution platform."
About Vevolution
Vevolution is the #1 global plant-based & cell-agriculture investment marketplace for startups, investors, and consumers. Our mission at Vevolution is to accelerate the growth of the plant-based and cell-based economy by providing fintech solutions that enable opportunities for investors and startups. Vevolution is home to 3,000+ users, 1,200+ startups, and nearly 100 investor members. In 2021, its first full year since launching its investment marketplace, Vevolution facilitated funding into 23 startups from around the world.

If you are looking to invest in companies like De Novo Dairy, as an angel investor or a fund, Vevolution is the community for you. Join Vevolution to access hundreds of early staged rounds now.
Plant Based Business Podcast
Interested in what you read? We interviewed Jean Louwrens, CEO and co-founder of De Novo Dairy, for the Plant Based Businesss Podcast. Stay tuned for its season 4 release!