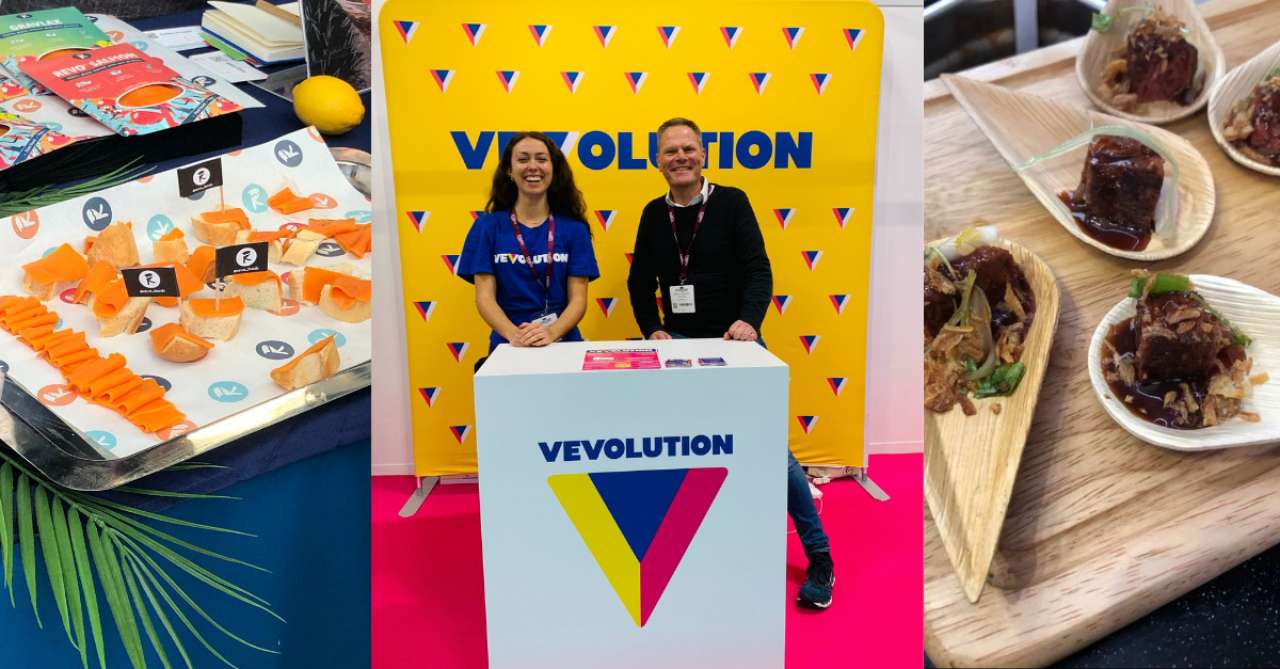 Trends and Highlights From Plant Based World Expo Europe 2022
Ashlen Wilder ・ 09 December 2022
Vevolution attended Plant Based Expo Europe in London, UK this year to host two start-up pitch events and exhibit. The best part of the expo for us was meeting start-ups and founders in person, and being able to taste incredible products. Here is a quick overview of the show, and some of the highlights that stood out to us:
Quick overview:
Plant Based World Expo is geared towards buyers exhibiting to start-ups exhibiting to retail buyers. The expo was filled with innovative plant-based companies from around the world showcasing their products, and the top category we saw at the show was plant-based CPG.

Classic plant-based ingredients like soy, wheat, pea protein, and cashews were most common, but we also saw companies using emerging ingredients like mycelium.

There was a wide range of sizes for companies exhibiting at the expo, ranging from small early-stage start-ups, like La Vie, to scale-ups like Omni Foods and Wicked Foods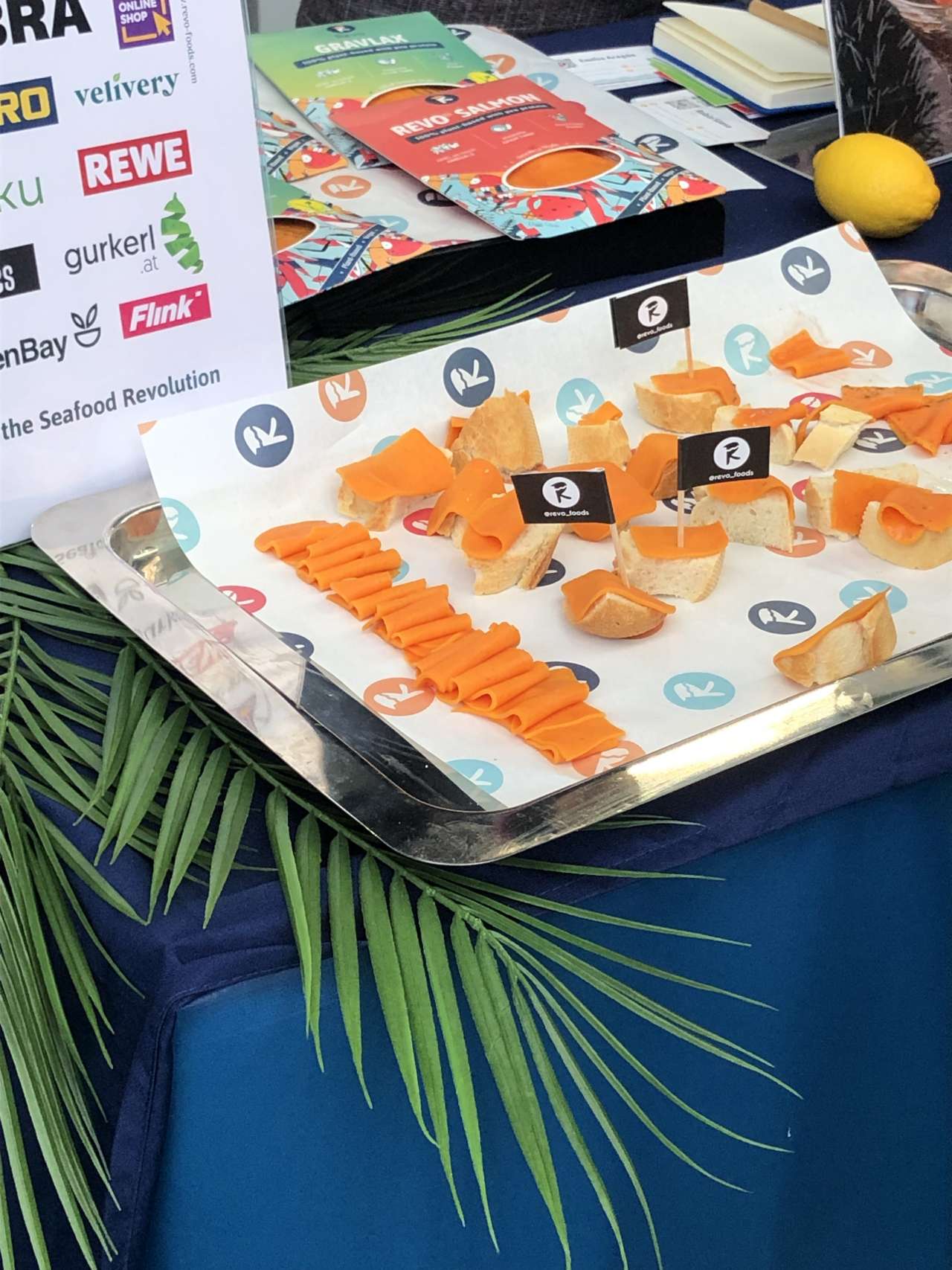 Plant-based seafood start-ups filling a traditional white space
For the past ten years, there have only been a few large players in the plant-based space producing alternative seafood. At the expo, a few up and coming start-ups had the opportunity to demo their plant-based seafood products. Revo Foods, an alternative seafood company based in Vienna, Austria, sampled its plant-based salmon and tuna spread at the expo. Our favorite was the tuna spread, which is based on a blend of wheat and pea proteins, and algae oil. Another popular booth was Verdino Green Foods and their brand Unfished; the brand's "PlantFish Fillet" was a big hit.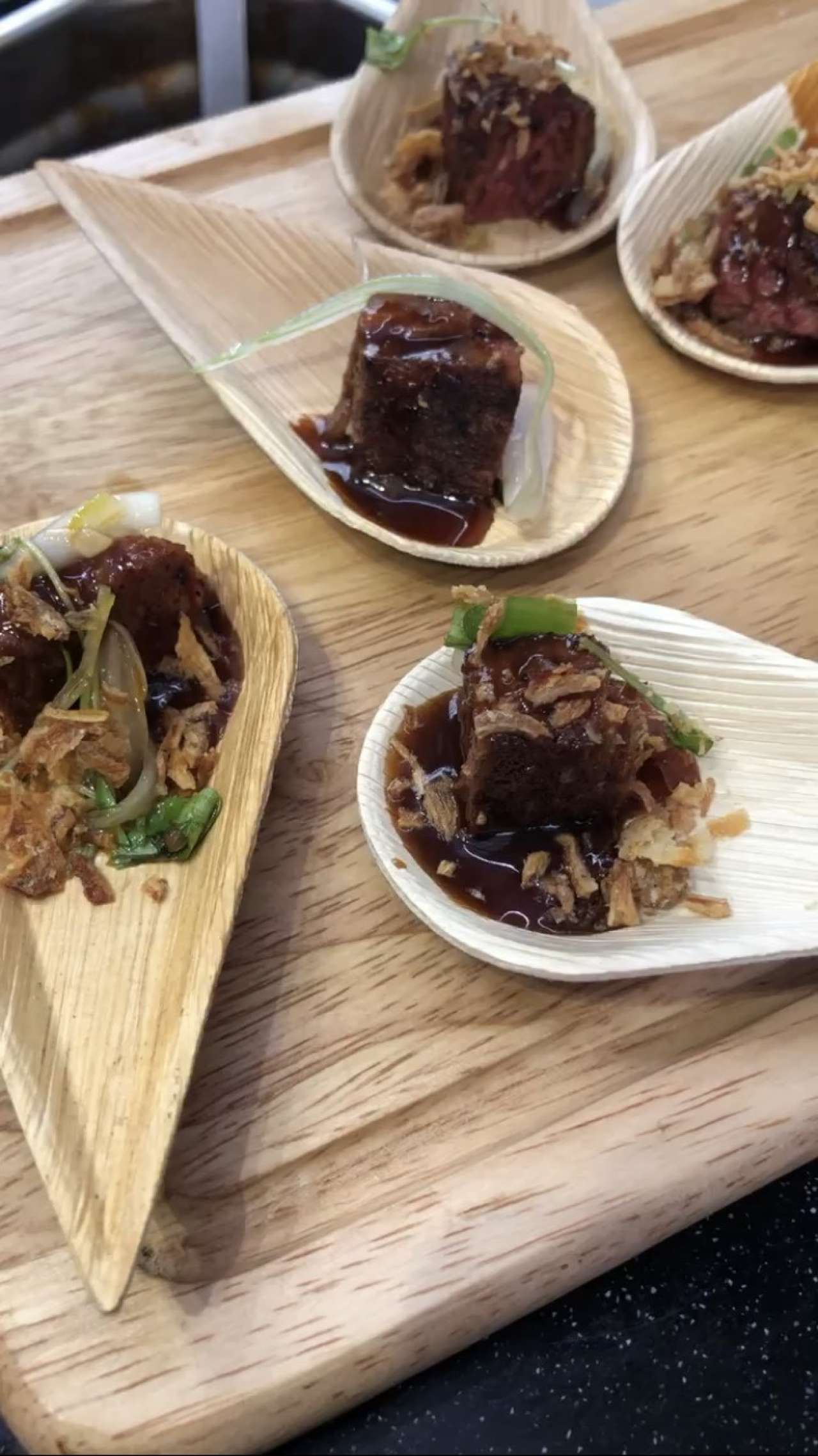 Unique alternative protein analogs
Burgers and sausage links were still one of the most popular alternative protein product categories we saw amongst the expo, but it was refreshing to see a few less typical protein alternatives. Cavi-art, a Danish company, sampled its plant-based caviar made from seaweed. Israeli-based Redefine Meat shared tastings of its 3D-printed meat, including bratwurst, flank steak, and tenderloin.
Different takes on alternative chicken
Plant-based chicken is a category that has had strong growth over the past few years, and two companies producing their creative variations of alternative chicken stood out to us. Shicken, a London-based brand, uses its soy-based chicken to craft takeaway Indian meals like curry and kabobs. Estonia-based Mati works with fermented mycoprotein to craft whole-cut chicken analogs. FoodBev Media's Plant-Based Taste Awards for best chicken product included brands Shicken, UMIAMI, Eatplanted, [MOCK], Impossible, and Unconventional.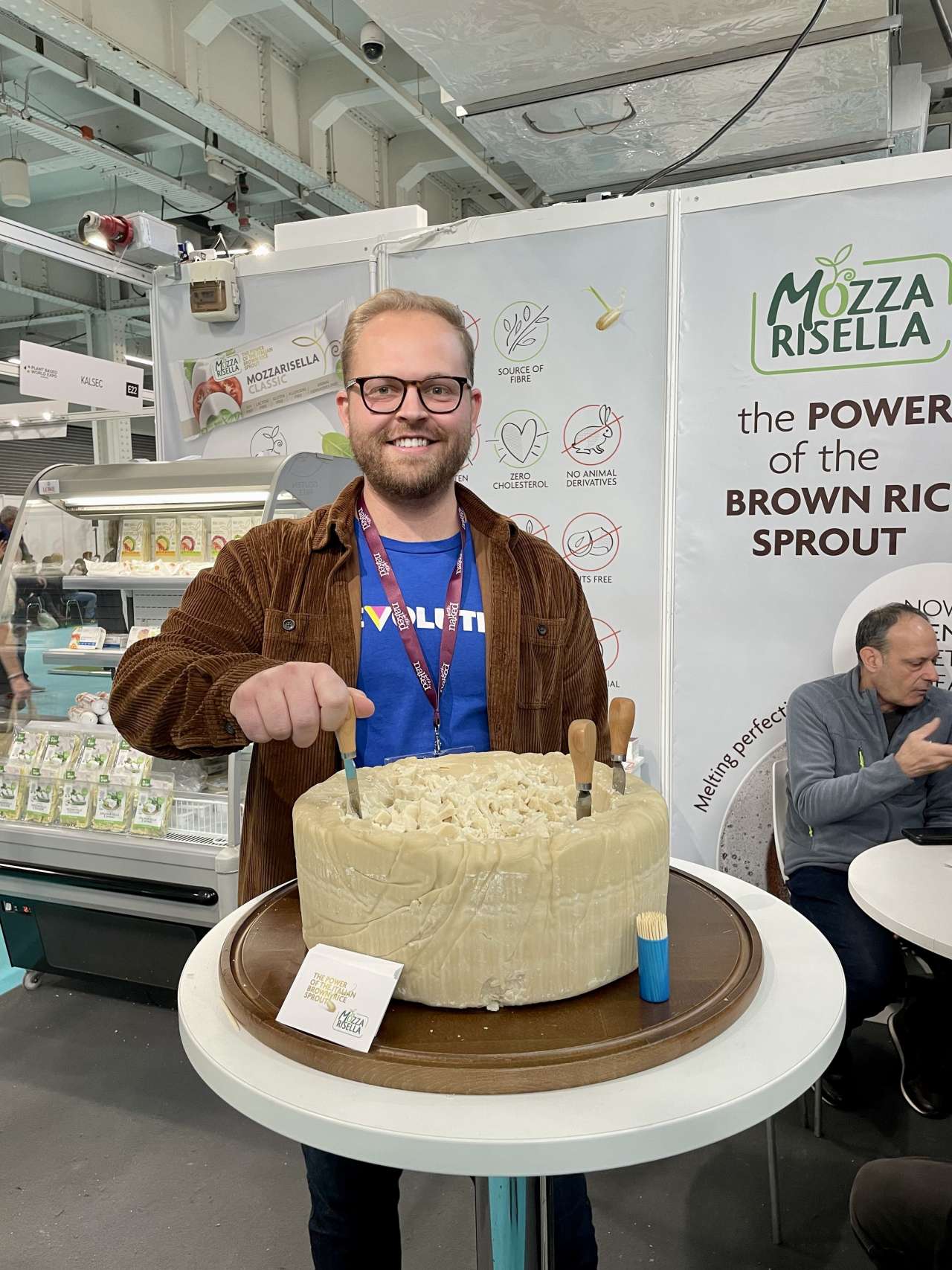 Alternative ingredients for plant-based cheese
Cashews and almonds are the most ingredients for plant-based cheese, but we saw a few companies stepping out of the box to craft alternative cheese. Parma Food Labs, an Italian start-up, uses fermented chickpeas as the base for its shredded and grated cheese products. Willicroft, based in Amsterdam, produces cheese alternatives like their Greek White and Fondue using legumes sourced directly from farmers. Our Co-Founder Erik also found a giant cheese wheel made by MozzaRisella, which uses organic sprouted brown rice grown with Permaculture practices to achieve zero-pollution farming.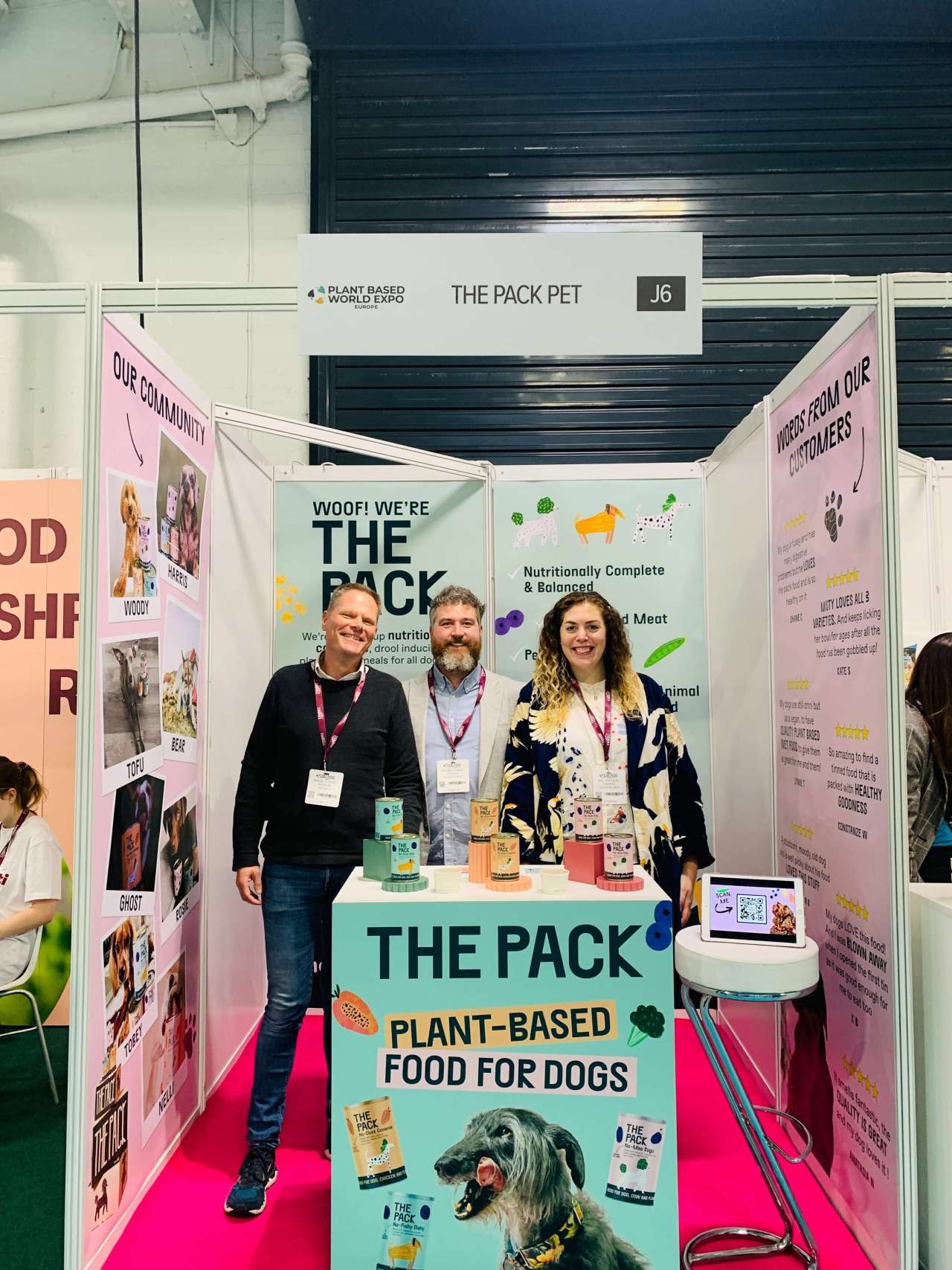 The only plant-based pet food at the expo
The PACK stood out at the expo as the only start-up exhibiting plant-based dog food. The London, UK-based company produces several varieties of nutritionally complete wet canned dog food made from a base of pea protein, lupin beans, and a variety of fruits and vegetables.
Vevolution's pitch events
Vevolution hosted two pitch events at Plant Based World Expo. Willicroft, Shicken, and Revo Foods pitched in front of a panel of retail buyers at our Seed to Shelf event. We heard fundraising pitches from Raging Pig Co., Better Nature, and Mati Foods at the Pitch and Plant event, which featured a panel of investors. Our two events helped startups to connect directly with buyers and investors at the busy expo.
Plant Based World Expo is the largest 100% plant-based conference in Europe, and it was incredible to see over 200 exhibitors from this space. We met a lot of new and familiar start-ups, and we encourage those who are not yet apart of our platform to sign up and join the leading plant-based and cell-ag investment platform.