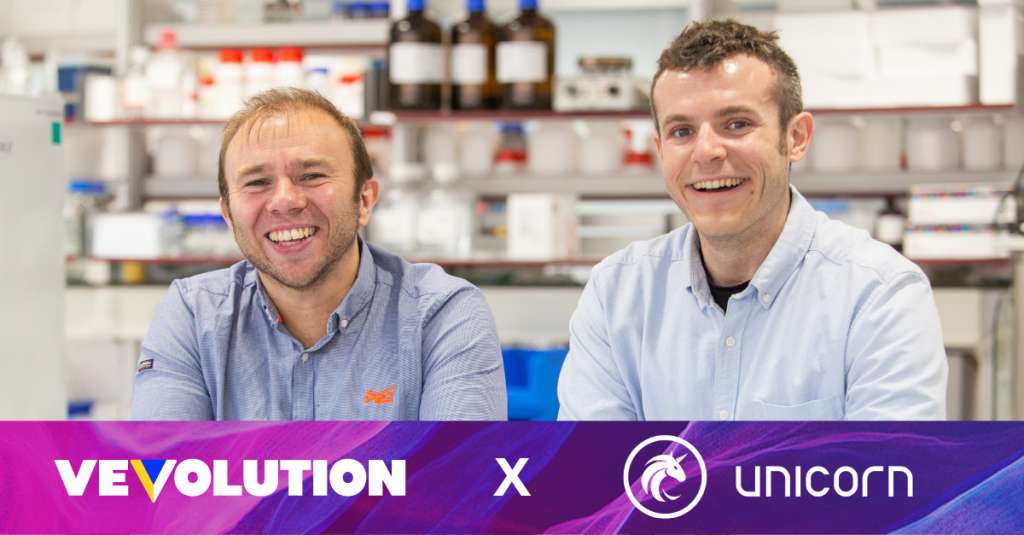 Unicorn Biotechnologies Secures Investment through Vevolution Marketplace
Erin Baright ・ 17 May 2022
Cultivated meat; it's the hottest food innovation that environmentalists and food tech professionals have been raving about. It's also what die-hard meat lovers love to hate. Also referred to as cell based meat, cultivated meat uses biotechnology to produce real meat from animal cells instead of live animals. It is one of three promising alternative protein technologies, along with precision fermentation and plant based meats.
There are nearly 100 cellular agriculture companies today (and more on the way) that need support with scaling and bringing cultivated meat to market. The basic principles of growing cultivated meat from cells have been demonstrated over the past decade. However, acquiring the manufacturing and technology to make it scalable and affordable is an uphill challenge. But that is beginning to change.
Unicorn Biotechnologies is a B2B biomanufacturing startup developing the scalability and affordability of cultivated meat to improve human and planetary health and pioneer the transition to animal free agriculture. Based in Sheffield, United Kingdom, it directly provides cultivated meat startups with the technology they need to succeed in their missions of reducing animals used in the supply chain.
"Today, we are at the beginning of a biomanufacturing revolution," says Jack Reid, Co-founder and CEO of Unicorn Biotechnologies. "Biology is revolutionizing how we build the world around us, from materials and medicines, all the way to proteins, food, and cultivated meat. In the next few decades, we are going to see a complete restructuring of how a lot of the products we know and love are produced."
We talked with Reid about the growing startup's mission, fundraising on Vevolution, and the future of food. Through the Vevolution investment marketplace, the biotechnology company raised funds in its latest seed round, ending with $3.2 million.
Scaling The Future of Food
Cultivated meat requires bioreactors, which are similar to large stainless steel tanks used to brew beer, to grow the fat and muscle cells that are used to make cultivated meat.
But here's the problem: bioreactors on the market today were not developed for cultivated meat. Common functions for using standard bioreactors are for simple cells, like bacteria and yeast for pharmaceuticals or beer. Bioreactors needed to develop complex cells for animal fat and muscle cells have different needs—that's where Unicorn Biotechnologies jumps in. The UK-based startup aims to turn specialized bioreactors into a commercial product to scale the production of cultivated meat.
"Our goal is to develop fit-for-purpose bioreactors from the ground up that are able to affordably and rapidly scale the cultivated meat products and the ecosystem at large," Reid says. The biotechnology company aims to overcome two major challenges that will stop cultivated meat from scaling to the mass market: producing proper infrastructure manufacturing and making cost competitive products comparable to meat in supermarkets today. "If we're ever going to scale cultivated meat and food to the mass markets to produce tons and kilotons, we need to be moving into large scale biomanufacturing systems," he says.
He uses a metaphor of comparing biology to software and biomanufacturing to hardware. Reid says that "the hardware enables software to function, similarly to how bioreactors enable biology to develop and cells to cultivate at scale."
Why Cultivated Meat?
The goal of alternative proteins revolves around feeding a growing population in a sustainable, secure, and humane way. According to the United Nations, the world's population is expected to increase by 2 billion persons in the next 30 years, from 7.7 billion currently to 9.7 billion in 2050. The global population could peak at nearly 11 billion around 2100.
The problem that the entire alternative protein space is trying to solve comes down to two essential questions that Reid poses: How can we feed a growing population while reducing the ecological impact of protein production, and how can we do it in a way that satisfies taste buds?
"We need to cut down on greenhouse gas emissions and produce proteins in an ethical and sustainable way," he says. "It is essential, but it is not clear right now which technology or alternative protein is going to rule in the long run."
Reid explains the three factors that will determine the long term success of alternative protein:
Making a protein source that has the same nutritional content as we're making today from live animal sources.

Making it economical for everyone to access.

Making it taste good. Does it taste like or better than live animal meat?
"What's amazing is that only a few years ago, we didn't have these products. Now they are on plates," he says with amazement. "People are eating these products in places like Singapore." There are currently some testing facilities in the United States, and the general consensus is that cultivated meat is indistinguishable from live animal-based meat.
Unicorn Biotechnologies is focused on more than just cultivated meat; it has its sights set on disrupting and decarbonizing the entire animal agriculture supply chain. "Something we are interested in developing with our technology are alternative proteins, broadly speaking," Reid says. Applications can extend far beyond a burger or even food products. They can extend to materials, too, like leather.
Unicorn Biotechnologies' goal is to rewrite the food manufacturing narrative by developing technologies that will support a local food system. It will likely roll out its technology with large facilities, but wants to support an array of companies to create a diverse network of production centers. "How can we make alternative proteins local, similar to how craft beering has been made local?" Reid questions. "This is an open question for us in the field, but it's one we're really excited about."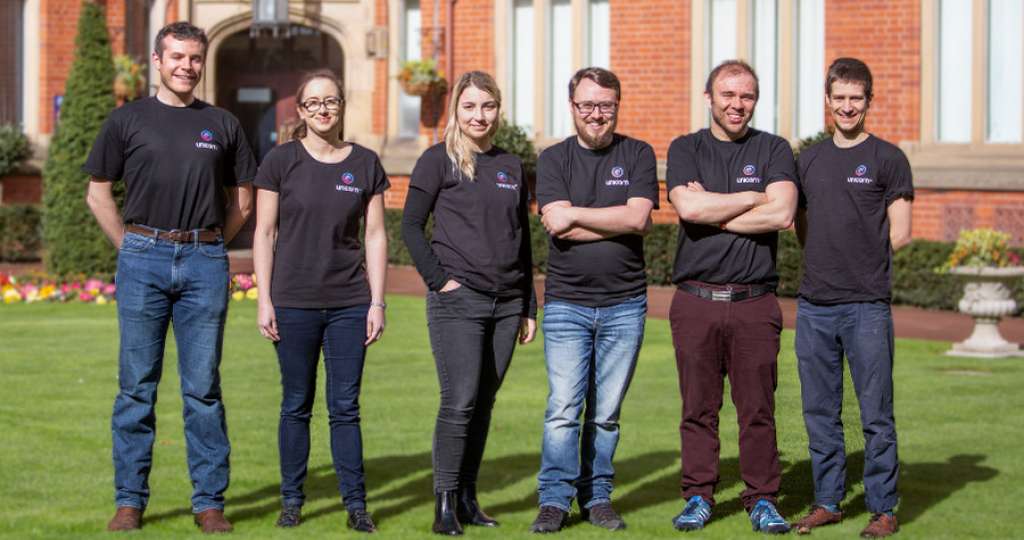 About The Unicorn Co-founders: Jack Reid and Dr. Adam Glen
Although Unicorn Biotechnologies is based in Sheffield, UK, Jack Reid is from the United States and lived all over the country. He graduated from Bates College with a degree in Chemistry and Philosophy, and was always fascinated by the sciences and its intersection with humanities. "How can we use science to improve human health and sustainability," he questions, "and how does the way we think about it help us do those things faster?"
He taught in Poland on a Fulbright Fellowship and landed in Cambridge, UK to finish graduate work. Although he loved what he was doing, Reid wanted to take cutting edge innovations from the lab and bring them to market—one foot in the commercial space and the other foot in the technical space. "It's my sweet spot," he says.
However, the "Two T's" are at the center of everything Unicorn Biotechnologies does: team and technology. Technology is critical, of course, but without the right team, entrepreneurial ventures are often doomed to fail.
After deciding to make the jump into entrepreneurship in 2020, Reid joined Entrepreneur First, a startup accelerator in London that selects individuals with huge founder potential and brings them together to find their co-founders. It was here where Reid met his co-founder, Dr. Adam Glen, Co-founder & CTO of Unicorn Biotechnologies, who has a PhD in cell biology and spent the last 15 years working between large industry academia and biotechnology startups.
"Adam and I both took long roads to come to biotech entrepreneurship" said Reid. Dr. Glen previously worked in cutting edge stem cell biology centers, on large scale biomanufacturing projects, teaching at universities and on designing new hardware systems to automate biology. "He has spent decades building up his domain expertise, while retaining his incredible drive, love of science and passion for empowering researchers and scientists to achieve their full potential. Adam is the perfect person to be at the forefront of a startup like ours" said Reid.
With similar backgrounds and complementary skillsets, Reid and Glen are able to bring out the best in each other, combining their passion for science and technology to build a crack team of scientists, engineers and the occasional unicorn to build and bring to market transformative biomanufacturing technologies.
Prior to co-founding Unicorn Biotechnologies a few years ago, someone told Reid that your co-founder is akin to a spouse. "Adam is a fantastic human being," Reid says. "I've loved being on this journey with him since day one, and can't wait to see what we and our incredible team develop over the coming years."
After completing Entrepreneur First in early 2021, Dr. Glen and Reid joined another startup accelerator called HAX, the world's leading hardtech accelerator s Reid and Dr. Glen were eager to travel to China, but due to the COVID-19 pandemic, they did the entire program remotely. "They have a team of incredible mechanical and electrical engineers who gave us expertise and experience that we really needed to round out the team," Reid says about the accelerator.
"The most important thing in a startup, as in life, is people," Reid says. "For us, solving this challenge and building a lasting company has always been about getting the right people with shared values and giving them the tools they need to fly." They brought on their first two team members in 2021: Tom Milton, a research engineer, and Dr. Adam Mitchell, a bioscientist. "It does make email chains confusing sometimes, having so many Adam's" he jokes.
Success Using Vevolution
Unicorn Biotechnologies kicked off its fundraising in fall 2021 and recently wrapped up its seed round with an impressive $3.2 million. The startup secured partial funding by connecting with Vevolution investors through the investment marketplace.
"It was a breeze to use the platform and very easy to onboard," Reid says about using Vevolution. "Within 30 minutes, we uploaded all of our materials and it was a straightforward process to match with potential investors." Over a several week period, they spoke with a few investors from the Vevolution platform, some of which participated in round.
Next Steps
What's next for the start up in 2022? The team is focused on redefining the product to make it excel in the lab and ensure it works for its early partners, plus expanding its biology and engineering teams. Recently, they brought on four new team members and broke ground on a new lab and facility in Sheffield, UK. Reid says that "we're excited to both have a fit-for-purpose space to call home and have room to support a larger team. It enabled us to bring on some incredible biologists like Dr. Joane Lacey and Dr. Monika Sledizowska, and our newest engineer Bertie Houghton who swapped designing nuclear reactors for bioreactors.
Unicorn Biotechnologies' biomanufacturing systems are set to enter the market in the coming years.
When it comes to founding a startup, many people, but especially scientists, engineers, and technical professionals might wonder if it's the right time to start. "Like planting trees, the best time to start was yesterday," Reid says. "Almost anyone now can access the tools they need to get an early stage company off the ground." In addition to the global food revolution and shift toward plant based diet, we are in the midst of a business revolution and how we communicate and interact with each other.
"We are here to make the world a better place than where we left it," Reid emphasizes. "There are a lot of challenges for humans. This is all a collective journey that we are on together."
Discover Vegan and Cellular Agriculture Companies on Vevolution
You can use Vevolution's directory to find hundreds of plant based startups in your home country.
Vevolution is the leading global plant based and cellular agriculture investment marketplace for startups, investors, and consumers. Our mission at Vevolution is to accelerate the growth of the plant based and cellular agriculture economy by providing fin-tech solutions that enable opportunities for investors and startups.
If you are an accredited investor and want to see what startups are raising on Vevolution, sign up for our Vevolution Investor Membership today! Access our marketplace, round data, pitch decks, industry analysis, instant chat, & more.
Contact Us
For more details or to be featured on Vevolution News, please contact us at hello@vevolution.com.